Today I am sharing with you something which I wanted to try for long time.Ya ! Those rope words.After having seen them in many places , I myself have asked the questions like , Do they really get stiffer and stand on its own? will they not come apart? Will the paste be that strong? To answers all those questions, I gave a try on this DIY rope words.Lets see ,How it turned out.
Materials required
Wax paper / any plastic sheet
Marker
Jute twine / or any twine
1 1/2 warm water , 1 cup Corn startch, 1 cup all purpose flour ,
1 cup craft glue & 1 teaspoon salt --> for paste
Step 1: Write the word you want to try in the plastic sheet with the marker in cursive letters, so that you will know how the rope should go.(as shown below)
Step 2: Prepare the mixtue without any lumps and soak the twine in the mixture. You can actually make a mixture with half the quantity specified above . As it is a small project you definitely don't need that much.
Step 3: The twine need not be soggy but it should be completely coated with the mixture to retain the shape.So squeeze out the excess mixture and write the letters with twine on the plastic sheet.
Step 4: Use any small piece of wire for shaping , if your twine gets twisted. For me , the end of the speech bubble was twisting and creating a loop(Picture above) , so I took a wire in "V" shaped and wrapped the twine on it.Be sure, to overlap the twine on the places like the start of "W" on the lines of the speech bubble. If it doesn't overlap then , you will not get a complete form to hang it.(I didn't do this in the start but I made it after sometime, forgot to take picture:( .You can see it in the final result).
I would suggest you to chose small words instead of large words or use thicker rope or use thinner twine twice the time for larger words. I am insisting you this, because you can notice the words are little curvy inside the speech bubble.If you want to avoid this, do it twice.So that , it will be stiffer.
I am happy with the end result.:) The words are stiffer enough to stand on its own and I got my doubts clarified. As we are renting a house in upstairs , we don't have a front porch or something to hang this, but we have a small wall in between the connecting room when we open the entry door, so I have hung this in that area.I think this would be perfect for "Fall".You can "Welcome" fall with this cute twine project.
If you are trying this, what words will you try making it ??If you have some extra jute twine , I have rounded up some wonderful twine projects by beautiful bloggers which would be perfect for "Fall".Check them out.
Twine for wall art ??That supposed to a great idea.If you are a geometry lover, this will suit your room.
DIY Jute twine Wall art
by Jamie from [Kreyv]
Any of your friends getting married this Fall??This would be a great way to display the rings.
DIY Ring pillow
by The Paisely Press
Even though the below tutorial will take you to the DIY Spring Wreath , the technique she has shown can be used to create the twine wreath below.Won't this wreath be a perfect one or "Fall decor"??
And also ,do you know you can use a pool noodle as wreath form?Just saying, in case you don't know.
DIY Fall wreath
by Cat from Mary Martha Mama
With simple knots and twine ,you can beautifully revamp a candle jar.Check this tutorial.
DIY Nautical Upcycled Candle Jar
by Carol from Through my front porch
I got the same questions striking in mind, will the glue gun alone hold the shape to make this rug.Check this, if you want to try a jute rug.I am awestruck with the designs!!!
DIY Jute rope rugs
from Home dzine
An easy tutorial to make a simple and elegant bottle display.
DIY twine wrapped decor bottles
from Mango & Passion Fruit
Are you a crocheter? Then , you should try this. Asking me ?? I am waiting for some good day to start learning crocheting.Anybody ready to teach me ??You are most welcome !! :D
DIY Jute twine belt
by Angela Lynn Via HubPages
This is not a DIY, but I found this on Etsy and thought it was cute .So sharing!!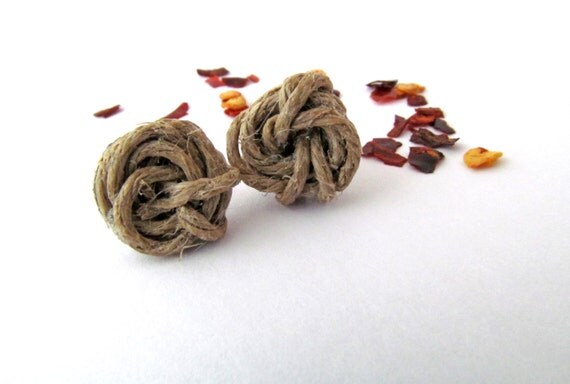 Twine studs by
SakieJdesigns
I know it takes hours and patience to do this. But it is worth the time.What do you think ?? A simple Ikea stool makeover.Have a stool like this?Then you should consider this tutorial.
DIY Ikea stool makeover
from Designsponge
Are you a kind of person who like personalized, customized things like me ?? Then here is a DIY for you.
DIY Jute wrapped letter
from White light on Wednesday
Hope you all enjoyed the DIY's I shared with you.Feel free to share your comments below.As always I am happy to hear from you.Have any doubts?? or want to say hi?? E-mail - Vikalpah@gmail.com.